---

"The mission is to get anyone down to a football pitch & get them playing"
---
Frame Football Association was formed on the 29th June 2015 from the Coundon Court FC Frame Football Team who were at that time the only Frame Football team in the country having been formed in October 2013 after a CP Sport Kickstart event.
Audio Clip from the Annie Othen Show – BBC Coventry & Warwickshire (2014)
Coundon Court played an unofficial friendly games at Aston Villa Academy as part of the Birmingham Ability Counts League during 2014/2015 season. It was on the 11th May 2014 that the first ever real Frame Football match was played & Coundon Court Red played Coundon Court Black in a 4v4 game & was highlighted on the CP Sport website
Since then we have promoted & expanded within the club but in 2015 we realised that the game was static & no other teams existed or being created.
Coundon Court FC announced to the world that a first ever Frame Football Tournament would be held on July 4th 2015. at their club in Coventry, UK & everyone who needed a frame to walk was invited. In the end 22 players from all over the UK turned up to play, including girls from Jersey & Wales & boys from Barnsley, Oldham, & Essex. From this exciting tournament it was decided to pursue a national league & the creation of further teams to expand the sport across the country & introduce further competition.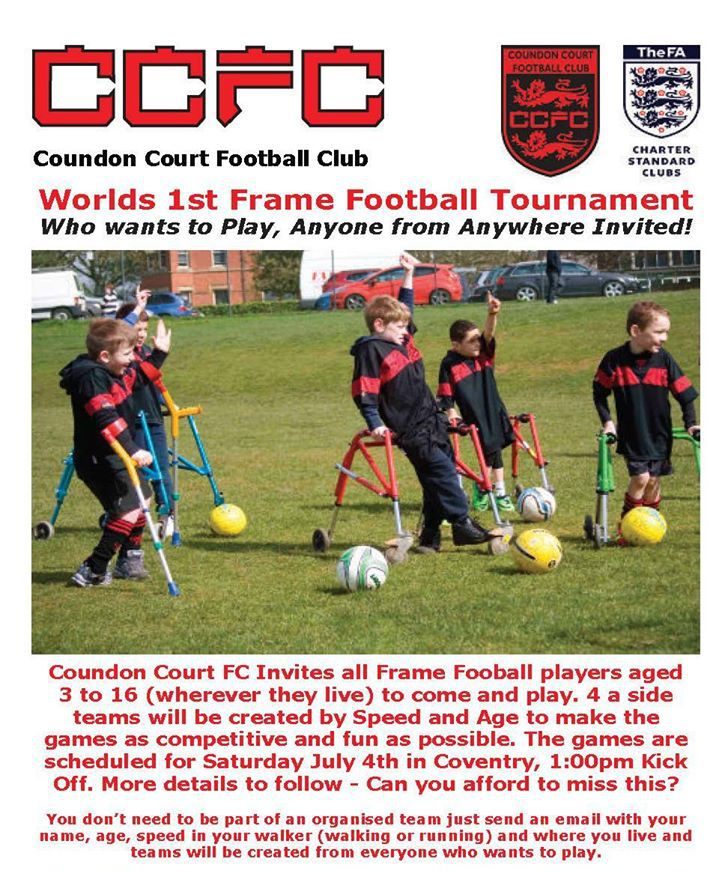 The Frame Football Association was formed by Coundon Court FC coaches to oversee the new teams, coaches & competitive games & keep everyone together & informed of all things Frame Football. We created a Facebook page that continues to get thousands of likes & followers of the sport as a quick point of call. We  can also boast of new teams created in Essex & Oldham, Bristol, Nottingham, Featherstone, Glasgow, Fife, Brighton, Newcastle & more joining on a weekly basis. In fact in the Frame Football Family we now have over 35 teams with qualified coaches registered with their local team & County FA are registered with the Frame Football Association & monitored by the Frame Football Association's Welfare Officer & Development Team.
Part of the development of Frame Football  has been creating rules which have been modified over the last year to develop & enhance the game & have plans alongside Birmingham County FA to head up the first National Frame Football League. The Frame Football Association have also been working closely with Quest88 to pursue a new bespoke Frame Football specific 'Frame' along with Birmingham  Warwick University. Through our players we have trialed & tested to try & improve the frames. The Frame Football Association helped push the design & aid development of these frames by promising to purchase 10 frames (£4000) once they were developed. These 'Game Frames' are now available to buy & The Frame Football Association continue to buy & donate frames to their players through competitions or through a player unable to participate due to financial circumstances.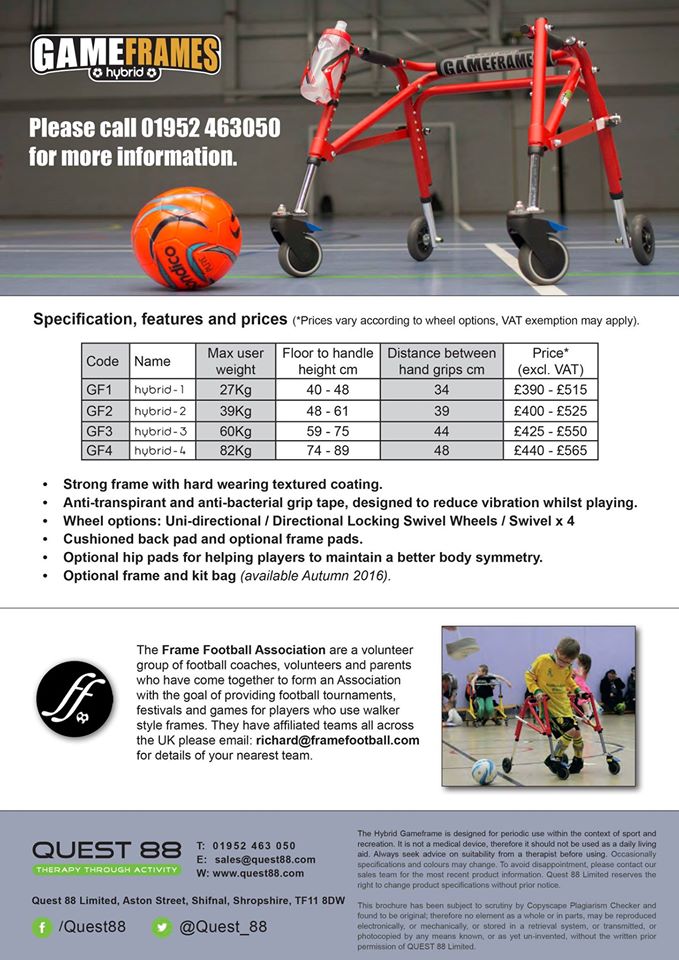 The first ever competitive Tournament took place on August 22nd at Coundon Court and this will mark the very first competitive game against two different clubs. Basildon Soccability Frame Football team played Coundon Court Frame Football team in a 4v4 game. Chadderton Park (Oldham) also sent two players & with some extra players from Coundon Court they formed a third team for a three team league & cup competition. Birmingham County FA & Quest88 both supported the event & we also had help from "The Challenge" a local youth volunteer programme.
On August 30th, the second day of help form "The Challenge" we had Andy turn up  & he announced he had traveled all the way from Nottingham, this coincide with Reid turning up again. As we announced to Reid's parents that Andy had traveled so far we were amazed to hear that they lived in Nottingham as well & had been travelling to Coventry every second week to attend Coundon Court training sessions for the last six months. That day we decided as we had two players we needed a Nottingham Club. we got onto social media & asked for a club to help, within two days we had two clubs reply. Wed decided to go with Rolls-Royce Leisure after telling them they had competition & whoever did it first would probably get the Nottingham team. On September 13th just two weeks later we had 11 players turn up to the first training session.
The grass roots  clubs & volunteer sector is the only way we can make this a sustainable sport & grow participation. We focus on Charter Standard Community Club's in all locations as the 'ideal' bases for more teams to join the Frame Football family & Association.
To show that it is a serious sustainable project we have short & long term plans with the committed Frame Football Association team. This was secured on 9th September when St George's Park agreed to hold National Tournaments on 22nd November 2015, 16th April 2016, 26th June 2016 & now three more in 2017 starting with 5th March 2017. These National Tournaments will provide a long term plan to couple them with regional events (North & South Leagues) will form the basis of the Frame Football for the next few years with one day Frame Football Paralympic teams an achievable dream for all our players.